Concern for wildlife of all kinds is an ever-present theme at EarthFair.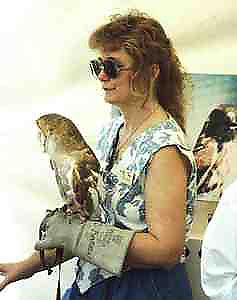 Wildlife rescue organizations often bring animals that have been injured and cannot be returned to the wild. Their unheralded labors rescuing injured and orphaned wildlife are worthy of your support.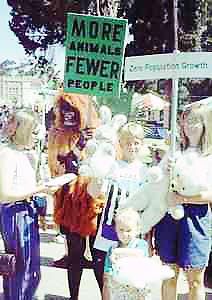 Of course, other groups deliver a slightly different message ...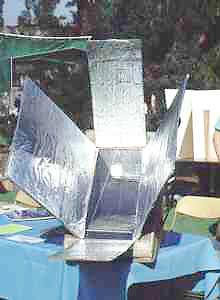 Solar energy makes it's presence felt in multiple ways at EarthFair (Tip: bring a hat!).
Jim Bell's Ecological Life Systems Institute always features this solar cooker. If you show up at the right time, you can score a piping hot chocolate chip cookie.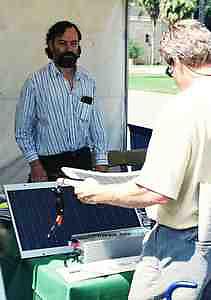 EarthFair offers a wide variety of solar panels. Here, a visitor examines one of the new, flexible panels.
Solar electric also provides solar energy to power some of the stages and exhibits at EarthFair!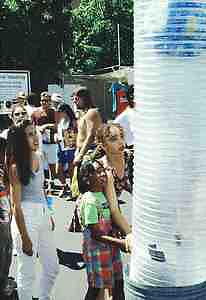 In this exhibit, solar power supports the earth. It could happen.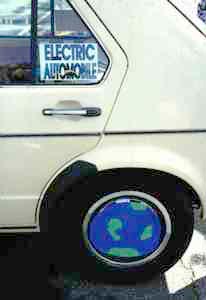 It's not solar powered, but this electric Rabbit frequently makes an appearance at EarthFair.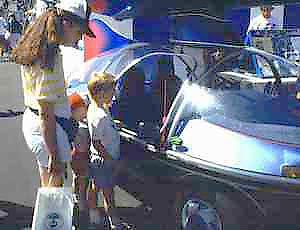 From the mundane to the esoteric, this futuristic car built by Fred Ferino would give the Jetsons a run for their money.