EarthFair in Balboa Park:
the largest FREE annual environmental fair
and Earth Day celebration in the world
Featuring the San Diego Earth Day Parade
EarthFair 2018 will be our 29th annual event – the 48th anniversary of Earth Day! Each year, the EarthFair draws around 60,000 visitors. Produced by volunteers, EarthFair features more than 300 exhibitors, theme areas, a Food Pavilion, a special Children's Activity Area, five entertainment venues, and the Earth Day Parade.
The citizens of San Diego County have an abiding interest and concern about their environment and quality of life. Every year since 1990, 50,000 to 60,000 visitors have attended the San Diego EarthWorks' EarthFair in Balboa Park – the world's largest free annual Earth Day celebration and environmental fair.
Set among Balboa Park's Spanish Colonial-style buildings and lush plazas, EarthFair hosts around 300 exhibitors representing a wide range of environmental interests, causes, products and services. Rounding out the Fair are parades, entertainment, food, and hands-on activities for kids. EarthFair is a fun and educational day for the whole family.
---
Who Attends EarthFair?
EarthFair attendees represent a broad cross-section of the population of San Diego County: men and women, young and old, singles and families. Forty-three percent of attendees are home owners. While most are from San Diego County, almost one-in-10 come from farther away. The majority of visitors have attended more than once over the years.
< 13

9%

13-25

33%

26-40

29%

41-55

17%

55-70

11%

over 70

1%

County of San Diego

89.2%

Outside San Diego

10.8%

California outside SD
3.6%

USA outside California

4.7%

Outside USA

2.4%

Statistics from a randomly selected group of 1207 attendees at EarthFair 2015

Visitor Attendance History

First time at EarthFair

23%

Once before

29%

2 times before

13%

3-5 times before

21%

6-10 times before

9%

11-15 times before

3%

More than 10 times

5%
---
EarthFair Exhibitors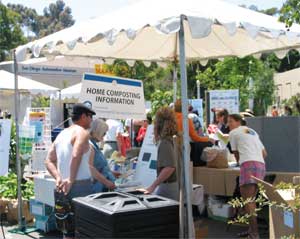 Our exhibitors represent every type of environmental cause, governmental program and commercial enterprise. Our exhibitor fees are graduated to allow everyone to participate, from the smallest club to the largest corporation.
It's impossible to list everything you'll find at EarthFair: traditional conservation organizations, wildlife preservation groups, products made from natural and organically grown crops, organic gardening information, alternative energy vehicles, ecotourism opportunities, many alternative and traditional health care products and services, pet adoption services, clean air and clean water products, rainforest preservation groups… the list goes on and on.
Types of Exhibitors

For-profit businesses
50%
Non-profit organizations
39%
Government
7%

Volunteer
3%

Political
1%


(Survey of EarthFair 2015 exhibitors)

Number of Years Exhibiting

One year
44%
Two years
17%
3 - 4 years
16%
5 - 10 years
13%
More than ten years
10%

(Survey of EarthFair 2015 exhibitors)
---
What Happens at EarthFair?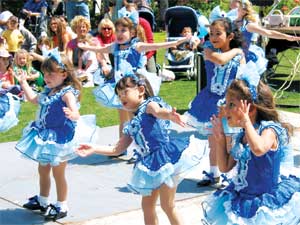 Of course, our exhibitors are the main focus of the EarthFair. But you'll also find:
Earth Day Parade.

The EarthFair hosts The Earth Parade, with kids and families marching, carrying banners, dressing up as endangered species... expressing their commitment to a clean, healthy environment. A Parade sponsorship is available here.

Food.

Our vegetarian Food Court hosts a variety of healthy alternatives to the standard hot dogs and hamburgers available in the park.

Stages.

EarthFair hosts 4 stage venues. The Children's Stage has entertainment by and for kids. The Magic Stage hosts the Wizard of Water show – water education through magic and song. The Sun and Moon stages feature local musicians. Stage sponsorships are available.
---
In Good Company
The following is a list of some of the businesses and organizations that have been EarthFair sponsors.
Bank of America
Barona Valley Ranch Resort
Black Mountain Ranch
BOSCH
car2go
Cymer
California Department of Conservation
City of Chula Vista
Commonwealth Energy
County of San Diego – Parks & Rec Department
Commonwealth Energy
Discover Magazine
EDCO
Ford Motor Co.
General Motors
Green Mountain Energy
HempMeds
Hero Nutritionals
House Foods America Corp.
HSBC
Kyocera Solar
Metropolitan Water District of Southern California
Mission Playground

Nordic Naturals
Northrop Grumman
Mitsubishi Motors
Pacific Honda
Qualcomm
Sanyo
San Diego Padres, L.P.
San Diego Regional Energy Office
San Diego Community College District
San Diego Gas & Electric
San Diego Metropolitan Credit Union
San Diego Toyota Dealers
Shea Homes
Solar Turbines
SONY USA Foundation
SPG Solar
Starbucks Coffee Co.
Target Corporation
The City of San Diego
The Nature Conservancy
University of San Diego
US Green Building Council
Utility.com
Walmart
---
EarthFair Sponsorship
EarthFair could not be sustained without the generous financial support of our sponsors. EarthFair attendance is free, and the fees paid by exhibitors cover only part of the cost of producing the event.
We provide sponsor acknowledgement at EarthFair, and in pre-event promotions, through the placement of sponsor's logo and/or name impressions on a variety of print media, banners, and signs.
The following sections describe the promotions we are able to offer. A key at the bottom of each page indicates the sponsorship levels that will receive recognition in that promotion. Our standard sponsorship package levels are:
In addition to the following General Sponsorships, separate Special Sponsorships are available for:

Don't see what you need? We can also craft Special Packages to meet your goals.

---
General EarthFair Sponsorships
$1,000 Level
$2,500 Level
$5,000 Level
$10,000 Level
All of the promotions of the $5,000 level, plus
$50,000 Level – Title Sponsorship
Please contact us if you have special needs that are not addressed by these programs.
---
Title Sponsorship
Title Sponsorship of EarthFair is available at the $50,000 level. In addition to all the promotions described here, the event will be recognized as "EarthFair 2018, presented by <your organization>" in all event signage and materials, and in all pre- and post-event promotions and will feature a custom-designed logo. Contact EarthWorks for more information.
---
Exhibit Space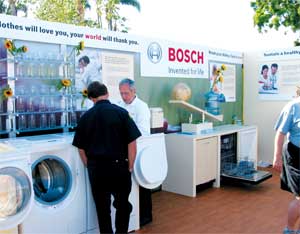 The best way to present your business or organization's cause, product or service to the thousands of EarthFair visitors is to have a great exhibit.
Sponsors at the $2,500 level will receive a 10' x 10' exhibit space; at the $5,000 level, a 10' x 20' exhibit space. Higher levels will receive additional space if desired.
We will provide the canopies, tables, chairs for your exhibit. Or, we can accommodate your custom exhibit, as illustrated by the Bosch exhibit above.
---
EarthWorks Website
This website, www.EarthDayWeb.org, is a major resource for EarthFair visitors. In April 2012 alone, the website received 44,341 visits and 92,315 page views.
All sponsors are acknowledged on three web pages when they sign up: on the home page navigation sidebar, on the EarthFair Information page, and on the Sponsorship page. Logo size and placement are appropriate to the sponsorship level.
The sponsor logo/name is linked to the sponsor website for easy click-through access. The links on the EarthFair and Sponsorship pages will remain for nine months following EarthFair.
---
Information Kiosks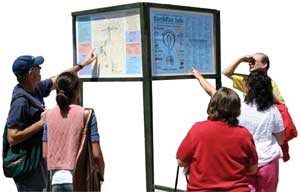 Five Information Kiosks are strategically placed along the major thoroughfares at EarthFair. They provide visitors with a map of the fairgrounds, a schedule of events and stage performances, and a list of exhibitors. A large area dedicated to sponsor logos and acknowledgments will provide some of your best visibility at the event.
Sponsors are acknowledged with the logo size and placement appropriate to the sponsorship level.
---
Volunteer T-shirts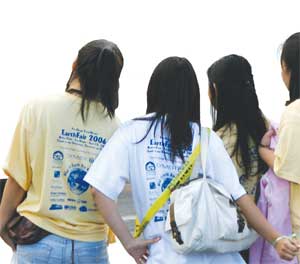 EarthFair is produced by more than 300 volunteers. Each volunteer is given a t-shirt that they wear at EarthFair and afterward throughout the year. The t-shirt features a colorful Earth Day logo on the front and sponsor/partner acknowledgements on the back. Everyone who sees them will know that you played a part in making EarthFair happen.
All sponsors at the $2,500 level and above are acknowledged on the t-shirt back, with the logo size and placement appropriate to the sponsorship level.
---
EarthWorks' Information Booths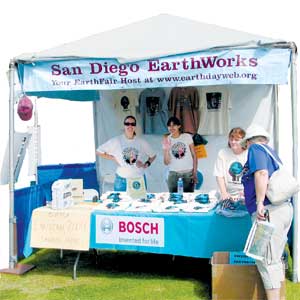 Seven Information San Diego EarthWorks/Information Booths are located in high-traffic areas. Their purpose is to provide aid and information to fair visitors, and to sell San Diego EarthWorks t-shirts and other merchandise.
Sponsors at the $10,000 and above level will receive special acknowledgement signage at all eight booths, and may place literature for visitors to pick up.
---
The Mural Wall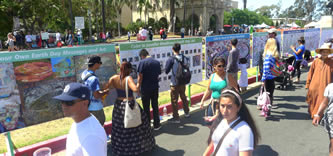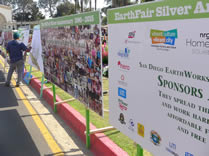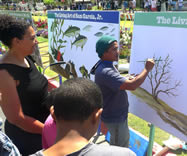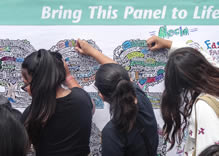 For the past 3 years, EarthFair has presented a 200-foot long display wall, consisting of 25 4' x 8' panels. Virtually all visitors passing between the north and south halves of EarthFair pass by the Mural Wall, and it has become a popular feature.
Various Mural Wall panels feature: new and historical Earth Day artwork; photos of EarthFair volunteers and exhibitors; artists creating new, "live" artwork on-site; environmental artwork and cartoons that visitors can fill in with colored markers.
Special sponsorships for the artists creating "live" art.
Click here for more information.
One of the panels in the Mural Wall displays the name or logo of EarthFair sponsors at the $2,500 level and above. Size and placement of the name/logo artwork vary, depending on the sponsorship level.
Two additional murals with the name or logo of EarthFair sponsors at the $5,000 level and above are placed at the two major pedestrian entrances to EarthFair: at the Cabrillo Bridge on the west, and at Park Blvd. and Presidents Way on the east.
---
San Diego Earth Times Ad Placements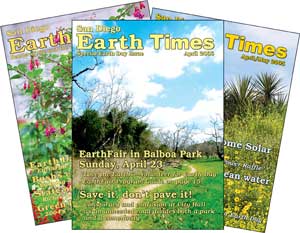 In cooperation with Earth Media Inc., the EarthFair Program Guide is published in the special April edition of the San Diego Earth Times. With a press run of 25,000, this publication features a wide variety of stories about the environment and our quality of life. This free publication is distributed at more than 300 locations throughout San Diego County, and at EarthFair.
Sponsors at the $2,500 level will receive a half-page ad at no charge. Sponsors at the $5,000 level and above will receive a full-page ad. Ads may also be purchased separately. Click here for more information about Earth Times ad placements.
---
EarthFair Program Guide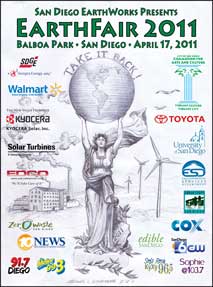 The EarthFair Program Guide is a 4-page section in the center of the April San Diego Earth Times. The cover of the Guide features the year's logo artwork, and the logos and/or names of the EarthFair sponsors. The center of the guide is a map of the EarthFair, showing exhibit areas, special events, stage schedules, and a list of sponsors and supporters.
All sponsors at the $2,500 level or above will receive acknowledgement on the cover of the Program Guide, with logo size and placement appropriate for the level of sponsorship, and in the list of sponsors and supporters. Click here for more information about the San Diego Earth Times.
---
---
Children's Activity Area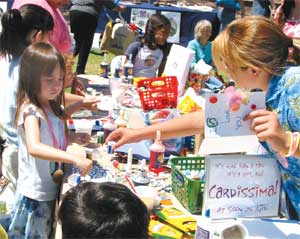 Our Children's Activity Area hosts a wide variety of hands-on activites for children that educate, entertain and inspire. Our premier activity is papermaking: youth learn how paper is made by making real paper samples from recycled paper pulp. You'll also find art projects using found and recycled materials, recycling games, animals, face painting, storytelling, outdoor education, and a host of hands-on activities for children of all ages.
Sponsorship of this area is available for $5,000. The sponsor will be acknowledged on special signage in the area.
---
Cleaner Car Concourse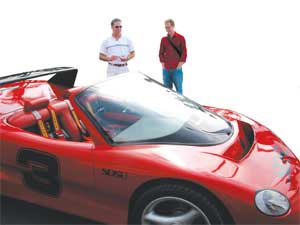 San Diego has a surprisingly large number of alternative fuel vehicles currently in service – on the road. The Cleaner Car Concourse features a wide variety of these vehicles, from battery-powered sports cars to natural-gas-powered trash trucks. The vehicles are on display for the duration of the fair.
Sponsorship of the Cleaner Car Caravan or AFV Alley is available for $2,500. Sponsor logo or name will be prominently displayed on signage at the Concourse.
---
Mural Wall Live Art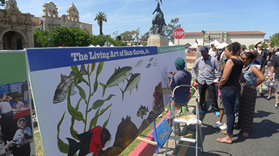 San Diego EarthWorks has relationships with a number of artists who have created environmental artworks on a Mural Wall panel at EarthFair and enjoy sharing their creative process with the attendees.
Sponsorship of the a Mural Wall artist is available for $2,500. Sponsor logo or name will be prominently displayed at the top of the panel.
---
HumaniTree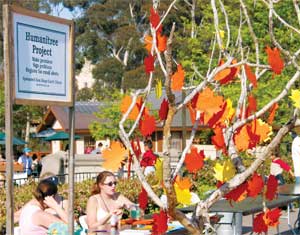 A HumaniTree is an opportunity for people to make both a personal and a public statement about taking care of the environment, each other and the world by writing a promise to take action on behalf of a clean, healthy environment on a Be-Leaf and hanging it on the tree.
At the Earth Summit in Rio in 1992, over two-million promises were collected. The Tree was visited by everyone from Al Gore to Fidel Castro to the Dalai Lama. People would gather at the tree to read the promises and to grow the tree by adding new ones.
HumaniTree sponsorship is available for $1,000. The sponsor logo or name will appear on each leaf, and in signage at each HumaniTree location.
---
Stages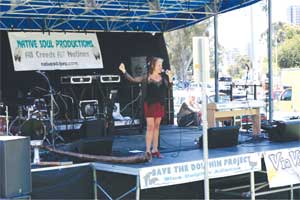 Sponsorship is available for any of the 5 stages at EarthFair: the Children's Stage (entertainment by and for children), the Magic Stage (Wizard of Water show, and the Sun and Moon Stages (contemporary rock and jazz).
The sponsorship level for any of these stages is $2,500. Sponsors will be recognized on a banner at that stage, and in the EarthFair Program Guide stage schedule. Contact the office for more information.
---
Earth Day Parade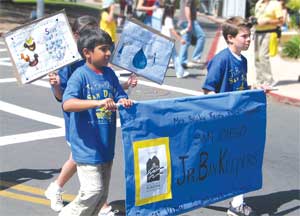 Featuring children, families, animals, marching units and floats, the Earth Day Parade (All Species Welcome) will assemble in the morning and march through the EarthFair. The Parade starts at the Natural History Museum and ends at the Children's Activity Area (total marching time is about 20 minutes). Parade units will be announced from three stages along the route. For more information, please visit EarthParade.org.
Sponsorship of the Earth Day Parade is available as a separate $2,500 sponsorship. Sponsor logo or name will be prominently displayed on the parade banner, and the sponsor will be acknowledged from the stages.
---
Special Promotions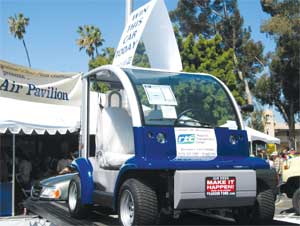 The sponsorship programs shown above meet the requirements of about 90% of our sponsors. However, you may have a project or promotion that requires special arrangements. An example is the above photo of the Clean Fuel Coalition exhibit from 2003 that required a pavilion for 15 separate vendors, plus a turntable for an electric vehicle being given away at the fair. No problem.
Please contact EarthWorks to discuss your special requirements. We will craft a sponsorship package that meets your needs, and your budget.
San Diego EarthWorks
858-272-7370
info@EarthDayWeb.org
PO Box 9827 / San Diego CA 92169